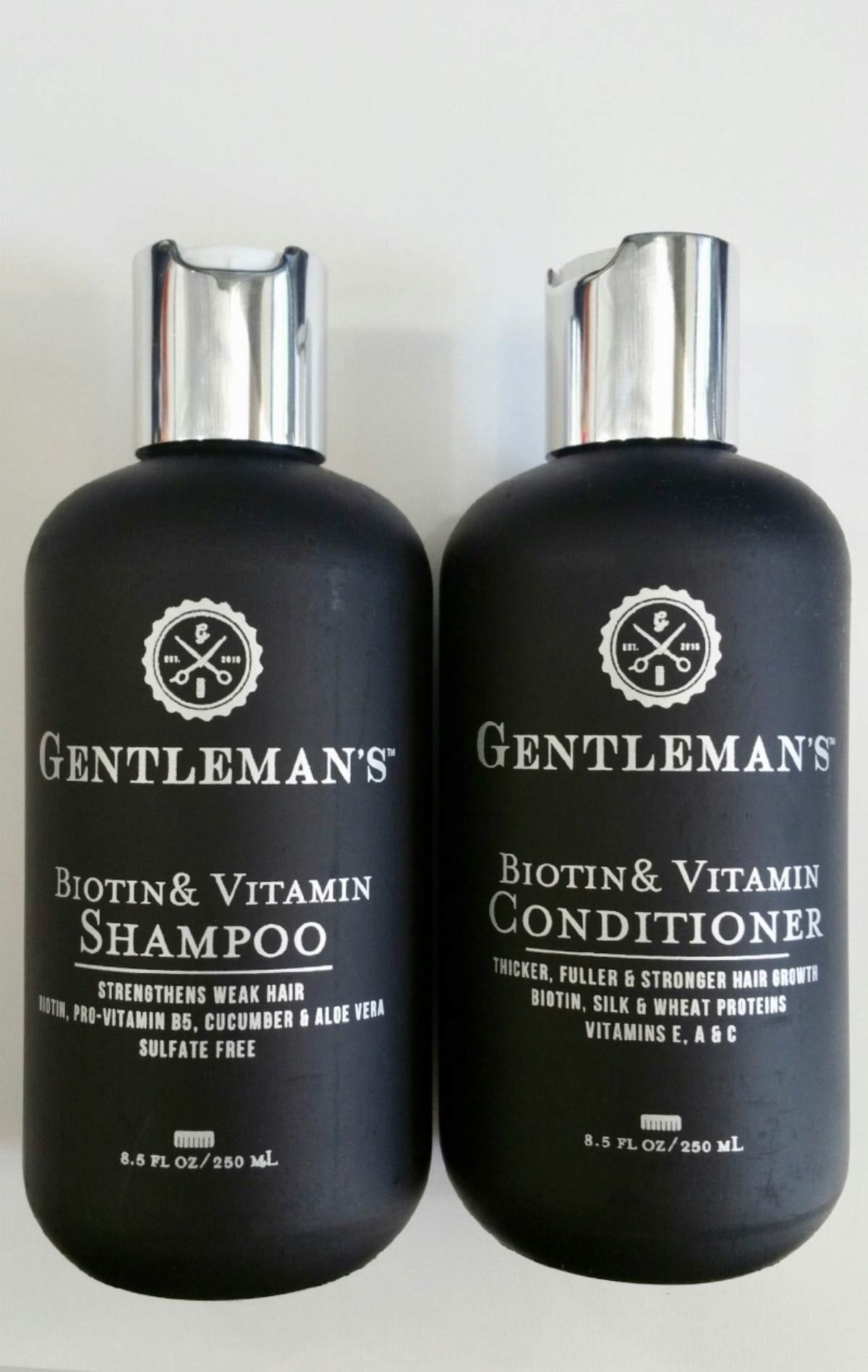 We're thrilled to announce our newest Gentleman's™ Biotin & Vitamin Shampoo and Conditioner!
Gentleman's Barber Spa founder, Peter Palushi, is always on the lookout for men's hair products that are not only great for cleaning or styling your hair, but are also healthy for your hair and skin.
As it says on the bottle, our new shampoo and conditioner contains more than just biotin. Also included are proteins that fortify your hair, and beneficial pro-vitamins and antioxidants.
The shampoo also contains natural aloe vera and cucumber! All of these ingredient work in concert with the biotin to thicken hair and repair damage to the follicle, which in turn promotes hair growth.
The Health Benefits of Biotin
Biotin is a B-Complex vitamin that plays an important part in growing and repairing cells in your body.
It is also major factor in the synthesis of fatty acids and vital for amino acids.
It is a common vitamin supplement for maintaining a healthy metabolism, and also for men experiencing thinning hair or hair loss.
Here are some more benefits of using Gentleman's™ Biotin & Vitamin Shampoo and Conditioner that you may not know about:
Consistent use of biotin repairs split ends and eliminates breakage, both of which make your hair look better and healthier.
Using a shampoo with biotin will help when hair follicles are blocked by flakes. Follicles blocked by dead skin inhibit natural, normal hair growth. Our biotin shampoo clears the flakes and allows the hair to grow as it should.
The other natural ingredients in our biotin shampoo and conditioner will nourish your hair follicles, which encourages absorption of the biotin into your scalp.
You may see an increase in the speed or volume of hair growth. Especially if you're going for longer hair or guys with thin hair - as hair that is not breaking tends to grow more quickly.
If you have been using commercial shampoos or shampoos with harsh chemicals, the biotin shampoo will repair the damage done to your hair.
if you have dry hair, it will stimulate the production of sebum, a natural moisturizer found in the scalp. The result is less breakage and nicer looking hair.
GET YOURS TODAY! Available at the shop.
Address
270 A Main St
White Plains, NY 10601
Phone
1 (914) 390-9222
Hours
Monday - Friday: 10am - 8pm
Saturday: 9am - 6pm
Sunday: 11am - 6pm